Best Dining Table for Small Spaces
Jul 08, 2022 by Homemys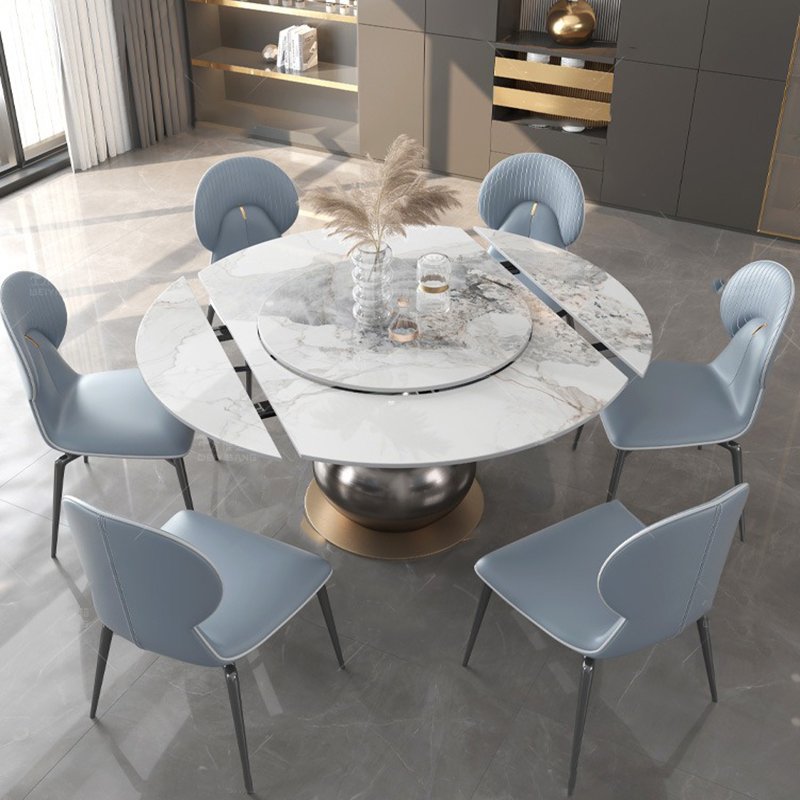 The dining table will intently connect your relatives or companions and provide a pleasant atmosphere forining. dThis seems to be essential. In any case, does each house possess a dining room and how huge it a general room? If you have a larger dining room, you can plan a spacious dining space for others. On the off chance that your dining room is only more modest, or even your home has no dining space, it is a major cerebral pain to pick a dining area table for little spaces.
Creating a pleasant dining experience for your guests is crucial, even in a minimized room. Accordingly learn more table sorts and picks of little spaces in this article and trust those marvelous dining tables could accommodate your need.
What kind of table is best for little spaces?
Square and round table are the most ideal decisions for little dining area, since the distance between each edge of the table and the middle point are something similar. Individuals on each side can arrive at the dishes on tabletop without any problem.
A square table is more suitable for a compact square room and a round table can fit in any small room. As there are under 5 individuals in a family however they once in a while may welcome companions to feast, a round table with leaves is the most ideal choice in a little kitchen and dining area.
The best 3 dining area tables for little spaces
Style: Contemporary & Modern
Color: White
Seats Up To: 6-8
Material:
Top Material: Sintered Stone
Base Material: Stainless Steel,PU leather
Size:
Extendable: 59.05"Dia x 29.52"H (1500mmL x 1500mmW x 750mmH)
Folding: 53.14"Dia x 29.52"H (1350mmL x 1500mmW x 750mmH)
Features:
This is a space-saving dining table that can be adjusted in width if necessary to accommodate more gatherings of friends.
The sturdy base supports the tabletop and leaves plenty of legroom.
White sintered stone table top is suitable for modern minimalist style, it is stain resistant, heat resistant and easy to clean.
Care & Clean: Wipe clean with damp cloth, wipe dry with clean cloth.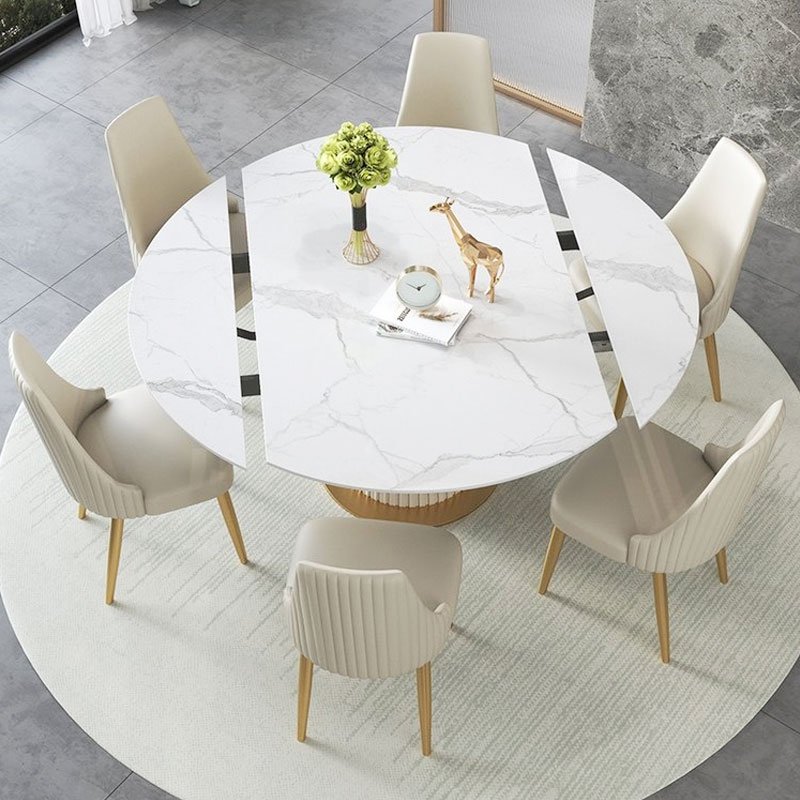 Small Room Extendable Round Dining Table
Can accommodate: 4-8 people
Color: White
Material:
Top: Sintered Stone
Base: Stainless steel with non-slip pad
Size:
Large Extension Dimensions: 59.06''Dia x 35.43''H(1500mm x 750mm)
Small Extension Dimensions: 53.15''Dia x 35.43''H(1350mm x 750mm)
Shrink Width: 35.43''/900mm
Features:
The retractable and raised dining table provides a place to connect with your loved ones and revel in the good times of the day.
It is heat, stain and scratch resistant, making it perfect for housewives.
Anti skid and anti scratch
The stainless steel base is equipped with an anti-skid pad to prevent the table from sliding.
Table extendable
The biggest feature of this table is that it can extend more space. When it is contracted, it can accommodate 4-8 people. When it is expanded, the round table can accommodate 8-10 people.
The rotary table can be lifd lowted anered
Considering that it is inconvenient to eat when the table is extended, the rotary table of this dining table is designed to automatically lift and lower. When the table is extended, the turntable will rise, which is more convenient and humanized.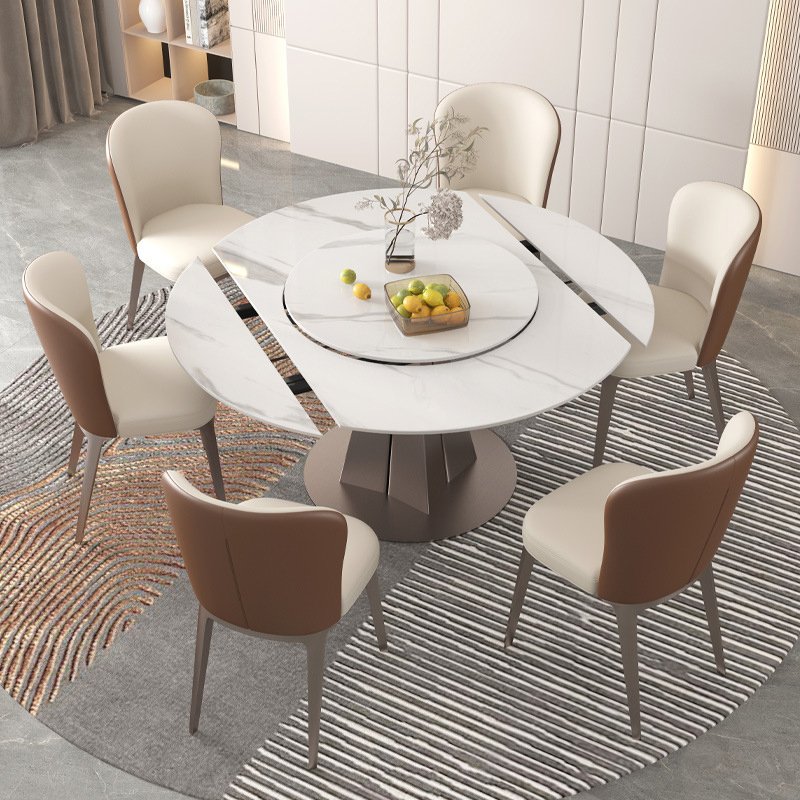 Round Liftable and Extendable Dining Table
Style: Modern
Seats Up To: 4-6
Feature: Lazy Susan
Color:
Top Color: White
Base Color: Black and White
Material:
Top Material: Sintered stone
Base Material: Sintered stone, Carbon steel
Size:
Medium Overall Dimensions: 47.24"Dia x 29.53"H (1200mmDia x 750mmH)
Large Overall Dimensions: 51.18"Dia x 29.53"H (1300mmDia x 750mmH)
Features:
The Lazy Susan on the table can rotate silently 360 degrees, perfect for high-end dinner parties or casual family dinners. Or you can put some plants on the table to decorate your table.
Gorgeous patterns are printed on the table tops, making the dining table full of glamour and luxury.
The base adopts a double-layer design, which is durable and beautiful.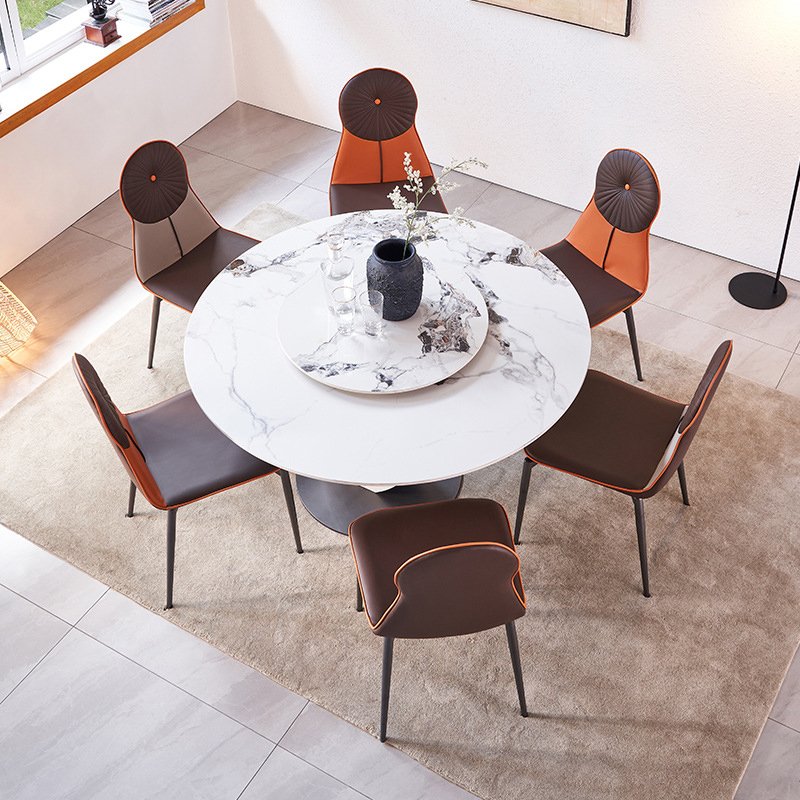 Lazy Susuan Dining Table
Alternatives to Small Space Dining Tables
In the event that those eating tables are not reasonable for your restricted dining space, or you don't have a separate dining room, a few flexible versatile tables are the best options.
Coffee Table
Style: Modern, Multifunction
Color: Brown, Black
Material: MDF, Metal
Overall Weight: 268 lb
Overall Length: 50"
Overall Width: 24"
Overall Height: 19"
The lift multifunctional coffee table is perfect for gaming, studying, dining and drinking coffee. When you need to read, you can turn it from a coffee table into a desk. When you need a family dinner, you can It change from a coffee table to a large dining table that can seat 4-8 people. 4 chairs can be stored under the table. Take this beautiful multifunctional artwork home!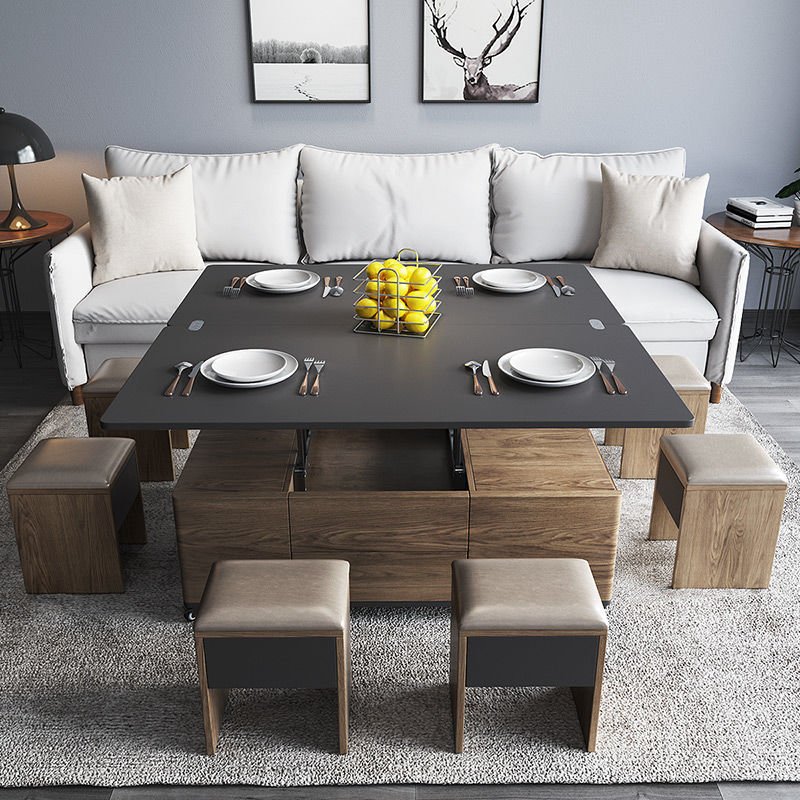 Folding Lift-top Multifunctional Coffee Table
This nesting coffee table will be loved by everyone for its versatility. This table can be used as a dining or coffee table when you live alone, or as a reading table when nesting low tables. At the point when you hold a social event, it is extendable for oblige more individuals. In addition, the two tables can be utilized independently in various positions.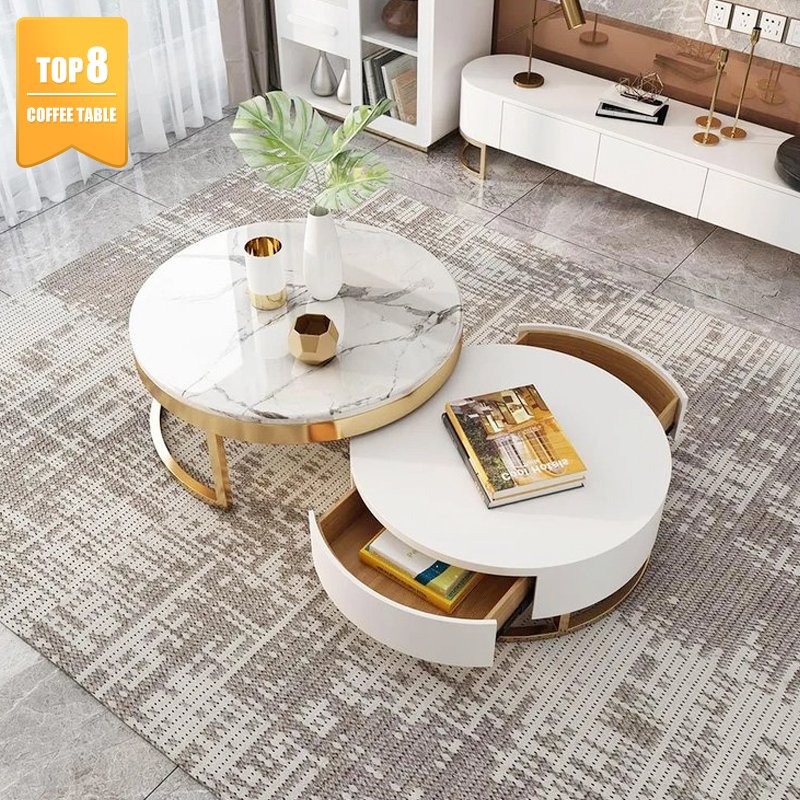 White Nesting Coffee Table Set
The square low table is versatile and 4 large drawers provide ample storage space. The spacious table top is perfect for 4 people dining in a limited house. Plus, the space around the base provides legroom for you to sit on the rug.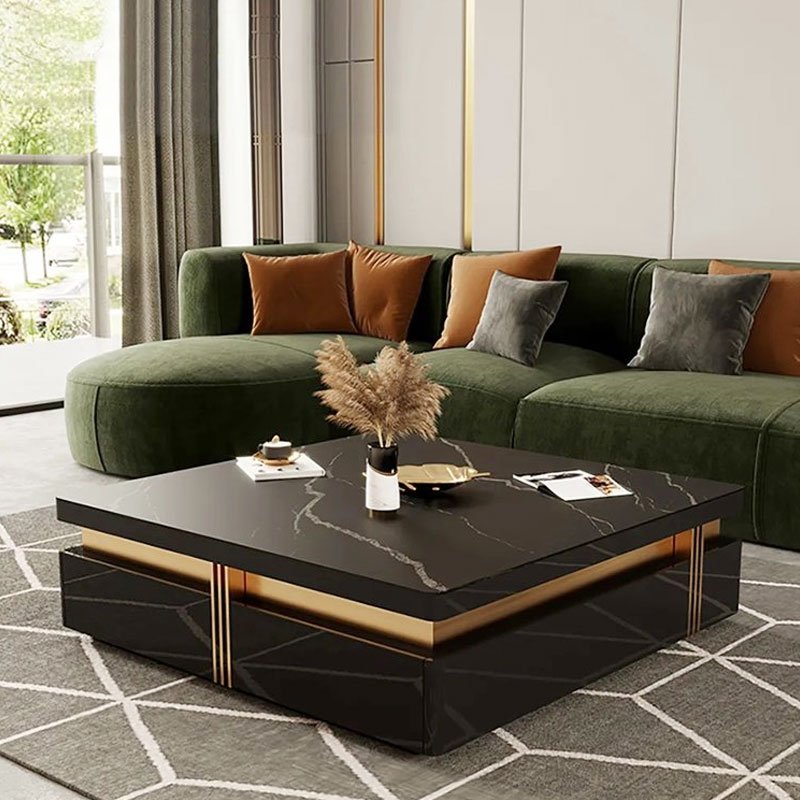 Square Storage Coffee Table
SideBoard
Style: Multifunctional & Modern
Color: Brown, Black
Seats Up To: 3-5
Material:
Top Material: MDF, Metal, Glass
Base Material: MDF, Metal
Size:
SideBoard Dimensions: 33.46"L x 19.68"W x 50.62"H (850mmL x 500mmW x 1286mmH)
Dining Table Dimensions: 33.46"L x 70.86"W x 50.62"H (850mmL x 1800mmW x 1286mmH)
The sideboard is very space-saving and can be freely retracted. It can be used as a sideboard and dining table in tight living spaces, especially for small ones. The side table cabinet can store your daily cutlery and cups. When the sideboard is fully unfolded, it is a large dining table for 5 people, and when half unfolded, it can be a dining table for 3 people.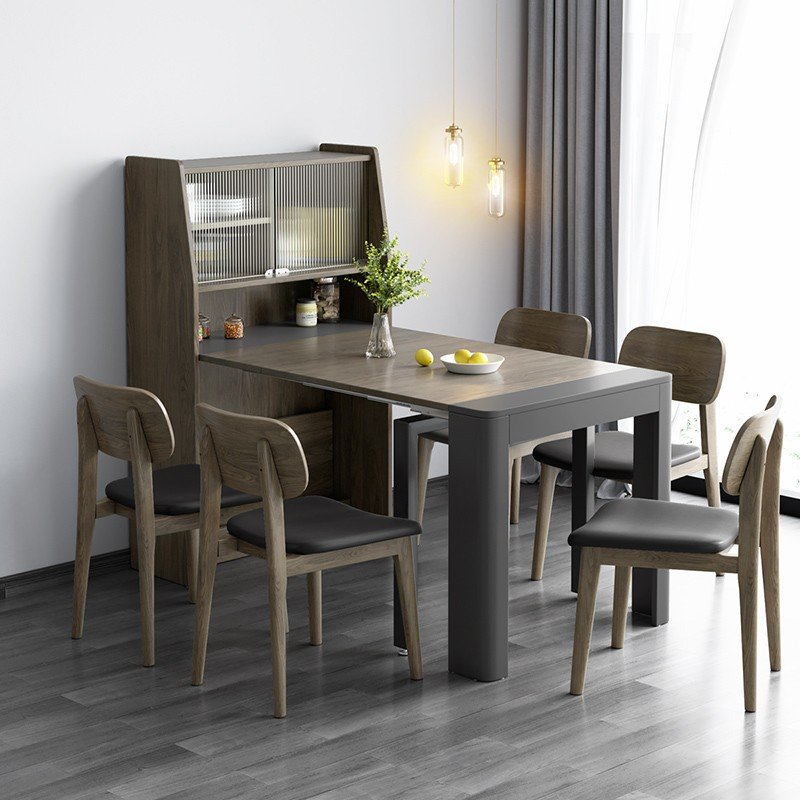 Multifunctional SideBoard, Dining Table
What do you think of those dining tables that are used for tight small spaces and alternative ideas? Share your choices with us in the comments section below.